Welcome College Coaches/Recruiters & MLB Scouts!  
Real Team Competition & Visibility To Some of Best Teams and Players out there!
SIGN-UP BELOW and WE WILL GIVE YOU:
1) SPECIAL SCOUTING ROSTERS that include School Committed and identified Top Prospects
2) SPECIAL NOTIFICATIONS of when rosters are available, any significant changes or highlights of interest
3) FIRECRACKER TOP UNCOMMITTED UNDERCLASSMEN EVALUATION CAMP PLAYER CONTACTS & MEASUREMENTS
– will provide the PLAYER CONTACTS & Evaluation Measurement Reports and FREE Pizza during break – 2017 Registered Teams

Really Appreciate your Comments, Feedback and/or Testimonials! This helps us better raise the bar and promote our programs.
Thank you for being part of USA Premier Baseball!
ACCESS NATIONAL DATABASE and
*CONTACT HEAD COACHES*

through the Prospect Tracker Subscription $50 a year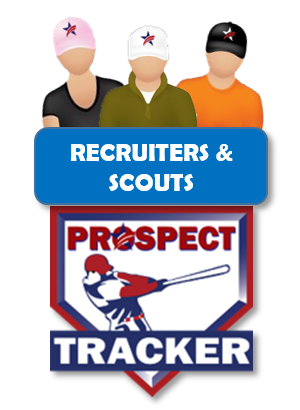 Advance Search / Filters, e.g., LHP, Non Committed + Top Prospects
Rosters By Team or advanced search results of All Teams / Players
+ School Committed
+ Identified Top Prospects
Print and Download
Watchlist Players

*** CONTACT Head Coach ***

Capture Personal Notes
Rosters integrated throughout all screens